The New Cadillac XT5
With all the luxury of the Cadillac Escalade but scaled down into an appealingly svelte SUV design, the Cadillac XT5 combines power with elegance. It competes toe-to-toe with some of the most luxurious models in the SUV market. If you're searching for sophistication matched with passion as you cruise Hot Spring's streets, the XT5 can exceed your expectations.
Performance
The XT5's base design offers a thrilling performance when navigating the roads throughout Malvern. The entrant engine is a four-cylinder design capable of delivering 237-horsepower and 258 pound-feet of torque. It can tow up to 1,000-pounds, making it the perfect weekend getaway vehicle that offers a comfort-filled ride while hauling fun toys like personal watercraft or ATVs. There's an optional adaptive suspension that will turn any winding road into a thrilling adventure, but even with base trim specs, the XT5 delivers a solid and smooth ride, whether your trip is short or all day long.
The gas engine for the Luxury and Premium Luxury trims gets 22 mpg in the city and 29 mpg on the highway. The optional V6 engine trades a bit of its efficiency for power, reaching about 19 mpg in local traffic and 26 mpg on the highway. The XT5 achieves an acceleration rate of zero to 60 mph in just over seven seconds.
Design
The interior of the XT5 exterior is reminiscent of the Escalade while adding enough individuality to give it a unique profile. The headlights offer an eye-catching design, trailing down the side of the front bumper to frame the grille on either side. The Cadillac badge sits proudly on the grille, matching the vehicle's rear bumper just over the license plate. There's a choice of eight exterior colors.
Inside, the XT5 greets the driver with a plush, richly appointed space that easily accommodates up to four adults and their luggage. The cargo area's already impressive 30 cubic feet of space doubles to just over 60 cubic feet, enough room for a dozen large pieces of luggage. There are also thoughtfully placed cargo bins in the cabin to hold electronic devices and snacks. For the driver, ergonomics is the name of the game, keeping all controls within reach while listing pertinent information on readily visible digital readouts.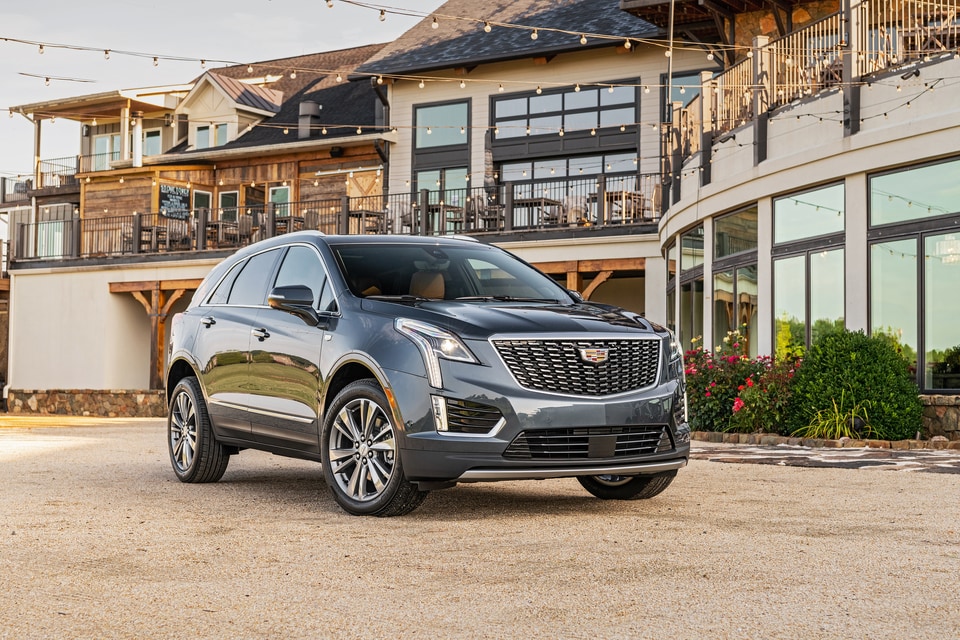 Safety
You'll be safe behind the wheel in Little Rock. The XT5 features numerous driver-assist features acting as a virtual copilot, warning any obstructions in neighboring lanes, initiating emergency braking when necessary, and using adaptive cruise control to maintain a safe driving distance.
Technology
Drivers will never be out of touch again in their vehicles. The XT5's eight-inch touchscreen and 4G connectivity keep both driver and passengers current with emails, phone calls, and internet browsing. There's Apple CarPlay and Android Auto integration, making it easy to navigate all Hot Spring roads with ease when using your favorite app.
Trim Levels
Three XT5 trim levels are available:
Luxury - offered in both front- or all-wheel drive, the entry-level trim packs plenty of luxury into its base design.
Premium Luxury - this trim adds luxurious details like a heated steering wheel, all-leather interior, wireless charging pad, and automatic liftgate to the base XT5 design.
Sport - this trim takes power to the next level, offering drivers a 3.6-liter V6 engine delivering 310-horsepower and 271 pound-feet of torque. In 2022, the Sport trim adds Brembo brakes as a standard feature, complete with calipers painted in an eye arresting scarlet red.
The Luxury and Premium Luxury trims come with either front-wheel or all-wheel drive; the Sport trim has no second configuration and only comes with an all-wheel driveline.