The 2021 Cadillac Escalade: It's luxury, extra-large
The newest Cadillac Escalade at Greg Orr Cadillac of Hot Springs is a contemporary expression of what Cadillac has been all about for generations. This is luxury at the highest level, providing the space, comfort and major league powertrain you expect in a large SUV that comes with the Cadillac nameplate. Every component is consistent with that upscale Cadillac DNA, so you can upgrade all your travels to Hot Springs or Malvern AR.
Performance
The new Cadillac Escalade has been thoroughly redesigned, and the engine is just the right match for the Escalade's imposing new exterior. It's a 6.2-Liter V8 with 420 horsepower that can also produce up to 460 pound-feet of torque. The powertrain design wasn't born yesterday, so there's no experimentation going on here. It's a proven big engine and a smooth-shifting transmission that lives up to its Cadillac DNA.
Did you ever wish you could put a diesel engine into an Escalade? You can now. The Duramax turbodiesel inline six is a new option for 2021. It's very good choice if you want authoritative acceleration and improved fuel economy, giving you an EPA-estimated 27 highway miles per gallon on your next trip to Bryant or Little Rock AR.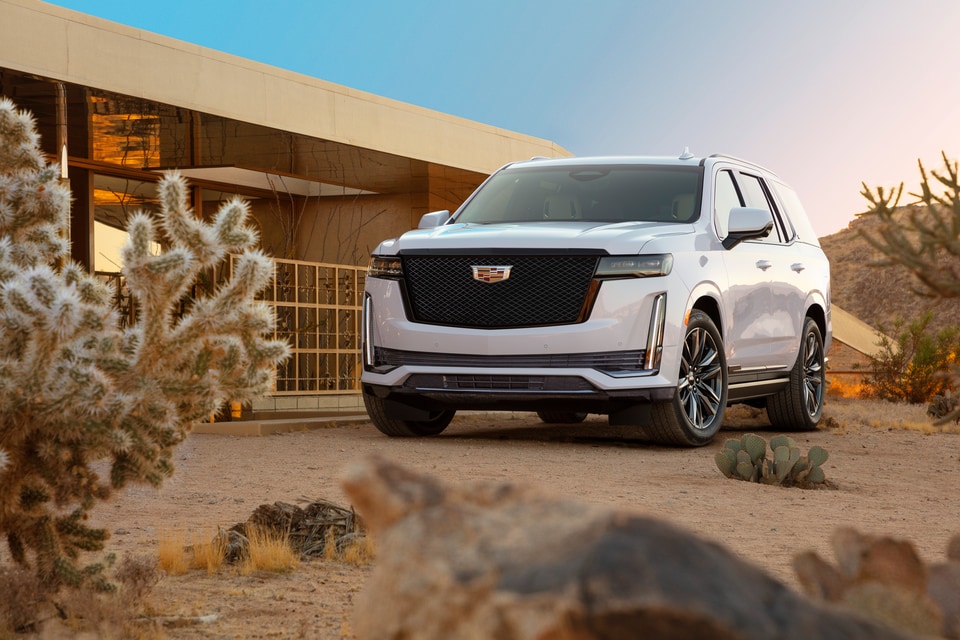 Interior
The 2021 Cadillac Escalade is a three-row SUV that can seat as many as eight, all in Cadillac comfort, and you get 12-way power adjustable seats up front. For an even better experience, you can opt for front seats that are adjustable 16 different ways with a built-in massage capability.
That redesign we mentioned has resulted in a much larger cargo space, and it wasn't small before. There's 72.9 cubic feet available with the third row folded down, and if you fold all the rear seats, you get a massive 121 cubic feet of room. Move up to the ESV model and you drive away with an even more massive 142.8 cubic feet of storage. That's quite a bit more cargo room than any competitor in the Escalade's class.
Infotainment
The dashboard of the 2021 Cadillac Escalade is so big and so impressive, it almost requires a guided tour. First there's a huge 16.9-inch main screen that responds to your finger touch. The Escalade gives you wireless smartphone integration, out-flanking competitors who demand that you plug in your phone just to connect. A 14.2-inch instrument display is in the center and a discreet 7.2-inch screen provides easy-to-see driver data.
The new Escalade comes with a standard 19-speaker stereo that would be an expensive upgrade in most other SUVs. You can almost double your audio power with an available 36-speaker surround-sound system. Standard features are worth noting: There's a home-style power outlet on board, a remote start capability and automatic climate control that spans three different zones.
Safety
Among the many standard safety features in the new Cadillac Escalade is a pedestrian detection system that works for both front and rear. A surround-view camera helps you park more easily. A collision-warning system tells if a crash is about to happen in front and automatic emergency braking can stop forcefully enough to avoid the crash altogether.
Find out what this much luxury feels like on the road
We invite you to browse our complete inventory of new 2021 Cadillac Escalade models and then make an appointment to take it for a test drive. Call or drop by Greg Orr Cadillac of Hot Springs to find out why this extra-large SUV has become one of Cadillac's best-selling models and let's talk about how you can spend a lot more time traveling first class.